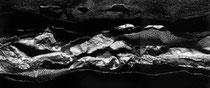 "Transmutations: Photographic Works by Carl Chiarenza"
November 11 through December 19, 2013
Jamestown Community College
525 Falconer Street, Jamestown NY 14701
(located on the second floor of the Arts and Sciences Center on JCC's Jamestown Campus)
This exhibition chronicles the evolution of the artist's photography, exploring how his tightly framed, documentary-style images from the 1960s and 70s present a vocabulary of abstraction that would be further developed in his ongoing series of photographed collages, he started in the 1979, constructed from scrap materials. The exhibition will also chart Chiarenza's move from working primarily with single photographs to the production of sequential images in order to expand on concepts of photographic time and space.
This exhibition is organized and curated by Buffalo-based artist and photography historian Robert Hirsch www.lightresearch.net
The exhibition, lecture and reception are made possible by support from JCC, JCC Faculty Student Association, the Katherine Jackson Carnahan Endowment for the Humanities and the JCC Foundation. 
---