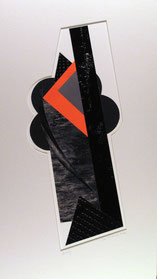 New and recent collages, paintings and photographs by Carl Chiarenza, Lisa Bradley, Bruno Chalifour, David W. Haas
February 6 – March 16, 2014
Opening Reception: Thursday February 6, 6-9pm
Artists' Talk: Saturday, February 8 @ 1pm
First Fridays: February 7 & March 7, 6-10pm
http://www.rochestercontemporary.org/
Rochester Contemporary Art Center is pleased to announce Makers & Mentors, a new exhibition celebrating the artwork and influence of one of the region's most well-known and accomplished artists: Carl Chiarenza. In addition to his successful career as an exhibiting artist, Chiarenza taught Art History and has mentored many other artists. Joining Chiarenza in Makers & Mentors are three accomplished artists who have been influenced by Chiarenza in different ways: Lisa Bradley (New York), Bruno Chalifour (Rochester), David Haas (Allentown, PA).
The exhibition will premier Chiarenza's new series of one-of-a-kind collages. In a generous statement of support for RoCo, Chiarenza will offer his new works at reduced prices and all proceeds will benefit The Future Fund, The Art Center's first-ever Capital Campaign.
RoCo Press Release
RoCo_Makers_Mentors_Release.pdf
Adobe Acrobat Document
168.8 KB
---
Review of Chiarenza's Latest Works: One-of-a-kind Collages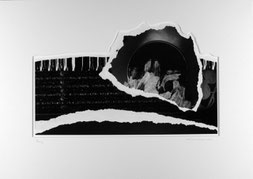 January 9, 2014
Excerpt:
"[Chiarenza's] approach to making art has been as austere, acerbic, abstract and minimalist as his understated, wry and whimsical persona... That might be the open sesame approach to decoding the work and this latest body of abstract collages with cubist elements. There are titles that refer to giants of both jazz and classical music from Basie and Dizzy to Bach and Stravinsky...
"Given the titles one might look long and hard to unlock the connection other than a whimsical reference. It is better than "Untitled" but not really more helpful. Just what is it about Dizzy that makes it Dizzy-like? Just what is Dizziness in purely graphic and pictorial terms? One reflects on Kandinsky who gave musical terms to his abstract compositions and found equivalence between musical scales and their chromatic colors.
"Once again the work is as daunting as approaching the enigma of the man itself. One can never really know but it is challenging to chip away at his daunting, generic block of marble. Like the neo Platonism of Michelangelo we strive to liberate the tormented figure embedded in the stone...
"What I find and relate to in the work is an epic inner struggle. The images evoke a prison of the soul and psyche from which we are never truly liberated. But the effort forms the detritus of great art."
---
Review of RoCo Makers & Mentors Exhibit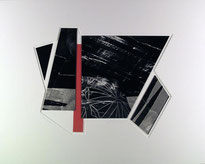 Photo master Carl Chiarenza has exhibit at RoCo

Democrat & Chronicle, March 2, 2014
by Lisa Tiffin
Excerpt:
"'What's most special about his work is that it is distinctive,' says Memorial Art Gallery director Grant Holcomb. 'When you see a Chiarenza, you immediately know it.'"
"These new collages are currently featured in Rochester Contemporary Art Center's Makers & Mentors show. 'Our mission is to show works not seen in Rochester before,' says Bleu Cease, director of RoCo.
"Cease adds that each year the show features a significant, regional, late-career artists along with artwork from people whom the artist has impacted in some way.
"'There's an integrity and a poetry to Chiarenza's work, and it comes out in the other artists,' Holcomb says.
"As for his take on it, Chiarenza explains, 'I started doing this for myself and my friends. I was fortunate that people responded and connected.'"
---
Review of RoCo Makers & Mentors Exhibit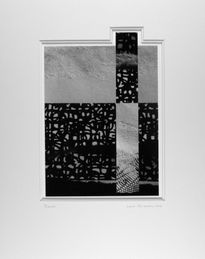 by Jonathan Everitt
Excerpt:
"A photograph of you is not you. It is, in fact, an illusion. That simple viewpoint is perhaps the cornerstone of famed photographer Carl Chiarenza's body of work—and his role as a mentor to other artists.
"'It's not unreasonable for people who are interested in photography to accept what has been broadcast since the 1830s, which is that the photograph captures reality, actuality,' Carl says. 'From my point of view, it never did that. Every photograph is an abstraction.'"